Management Team
Neil Williams, PhD CEO, Founder & Director
Neil Williams founded Cyberscape Media Ltd. in 2008. He is the company's CEO and serves on the board of directors. Neil manages the company's developers, marketing strategy and partner relationships. Neil previously worked in the space industry, where he worked on the computational simulator for Cryosat, a polar-orbiting environmental satellite, and provided simulator support at ESA's European Space Operations Centre in Darmstadt, Germany. He gained his PhD in Aerospace Engineering from the University of Southampton in 2004 and gained his MEng in Aeronautics & Astronautics from Southampton University in 1999.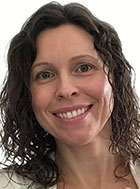 Ciara Muldoon, PhD Director
Ciara Muldoon joined Cyberscape Media Ltd. in 2009 and serves on the board of directors. Ciara manages the company's finances, copywriters and researchers. Ciara previously worked as a Science Communication Consultant for Harvard University (2008-2009) and for MIT (2007-2008). She gained her PhD in Science Studies in 2006 from the University of Bath, having earned an MSc in Science, Culture and Communication from the University of Bath in 2002. Ciara graduated with a BSc in Experimental Physics from the National University of Ireland, Galway (NUIG) in 2001.